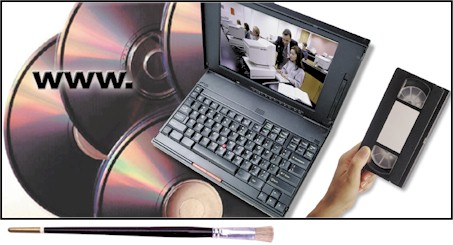 Painting the Big Picture
Learning Management Systems Lend Context to Content
By Dale Coyner
Once upon a time, corporate training was a simple proposition. Managers sketched out broad performance objectives, instructors put together a few classroom-based programs, kept attendance and scored tests.
However, today's research shows this approach to training is about as effective as carrying water in a sieve. What's more, business trends such as globalization, rapid product cycles, and the increasing sophistication of our competitors have all highlighted a need to improve and maintain peak employee performance faster than ever.
Technology has led to an explosion of training alternatives including satellite, videoconference, and web-based distance learning, CD-ROM and web-based courses, discussion lists, chat rooms, net-based meetings and coaching sessions and more.
Now, with so many options to choose from, the challenge is finding a way to keep track of all the learning options an employee has, present options in a logical manner, and can track a person's learning goals and performance. Enter the learning management system.
We used to think of learning management as a scorekeeping function.
Who attended Configuring Routers 101? What did they score on the final exam? Today's management systems have to go much further, tracking curriculum, managing registrations, tracking compliance and mastery, competency definition, and even career management. In fact, the most sophisticated systems can meld the physical and virtual worlds to include facilities management and connect to human resource management systems such as PeopleSoft.
Making the Case
So, learning management systems sound like they could help improve your company's performance. But what specific benefits can you expect from a learning management system?
Match the training to the need. How many times have you signed up for a course only to discover that it really wasn't what you needed? Learning management systems can make it easier for employees to find exactly the course or module they need. Products such as Asymetrix Ingenium offer extensive analysis tools you can use to help employees identify where their knowledge is lacking, then follow up with a personalized learning plan.
One stop shopping for learners. A learning management system puts a common face on all your training. A one-stop shopping approach means that employees will have a more consistent learning experience and save time finding what they need.
This becomes particularly important as companies design training curriculums that use the many different delivery methods and modes of today's learning products such as web-based discussion groups, live web-based learning, chat rooms, and CD-ROM computer-based training.
Measuring return on investment. Although we know training programs improve employees performance, it's always been tough to directly tie the results of learning to improved performance. Measuring return on investment really means a couple of things.
First, are the training programs you've put into place helping employees perform measurably better? Learning management systems can help you determine this by tracking employee progress through defined learning tracks. Second, are the programs you're producing being used by anyone? Again, with a comprehensive management system, you can easily tell which programs are generating "ratings" and which aren't.
Reduced administration costs. By consolidating all training management into one system, your company can realize significant cost and time savings.
Power at a Price
As you might suspect, learning management systems are not an inexpensive proposition. System costs, excluding the development of actual training programs, can range from $20,000 to a half-million dollars or more for installations at large enterprises.
However, cost is rarely a barrier to successfully implementing a learning management system. Most systems can be installed with the click of a mouse. What takes work is changing the habits of instructional designers and employees. Most companies that offer learning management also offer consulting and training services to help your company plan and execute a successful system. Unless you have a staff with significant online training design and management experience, it's usually worth the added cost to buy your way up the learning curve.
Evaluating learning management systems on an equal footing is also difficult. Most system come as a bundle including development tools as well as the management system. Often the system is optimized for use with the company's own toolset. For example, Authorware Attain is a powerful icon-based program for rapidly creating interactive learning. However, it works best when integrated with its own learning management system, Pathware.
Attain.
You can track an Authorware program with other management systems, but it will require some configuration to do so.
Once you've made your choice you'll find that no learning management system will suit the needs of your company as it comes out of the box. That means you'll need to spend some time configuring the system so that it better suits the learning styles and needs of your employees, as well as the mix of learning products and delivery methods your company uses. Again, a little help from an experienced consultant can save you a lot of time and pain in this area.
While all these issues merit serious attention, they don't outweigh the overall benefits of providing a single-source central management solution for your company learning solutions. In today's environment, learning faster than your competition is perhaps the only sustainable competitive advantage your company has. A good learning management system can give you the focal point you need to offer a powerful performance solution for your company's most important asset-its people. EM
Dale Coyner is president and CEO of Communicast, Inc., a company that produces live, web-based events that are easy, fun and effective. He can be reached at [email protected].